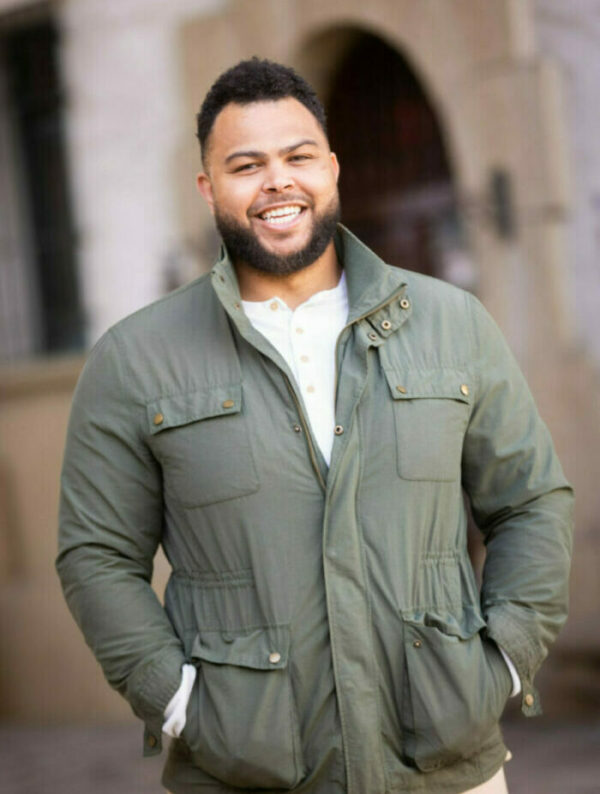 District Representative/Communications Director to County Supervisor Laura Capps
Emerging Leaders, 2017
Growing up, Jordan moved around a lot – from various homes around Los Angeles to El Paso, Texas to Bakersfield, California. Because of this, he craved being rooted and deeply connected to one community. So, when he moved to Santa Barbara to attend UCSB, he immersed himself in campus life, becoming a resident assistant, building community, creating programming to connect students, and serving as a resource and mentor. These skills followed Jordan from the dorm to the Santa Barbara Foundation to the County Board of Supervisors, where he serves as district representative and communications director to Supervisor Laura Capps.
"I believe many conflicts in life are simply due to communication errors and when we work together in community – with a common language and common goals, we can find our best solutions," said Jordan.
Jordan strives to be an expert at creating solutions. When six students were killed, and more injured, in the 2014 mass shooting in Isla Vista, Jordan found a way to honor their lives. Along with the community, he raised over $50,000 to build a park within one year, dedicated to those students who tragically lost their lives. The Isla Vista Love and Remembrance Garden demonstrates the capacity for the IV and UCSB communities to come together and create a meaningful place for public commemoration and healing, and it illustrates Jordan's ability to get things done.
This work caught the attention of the Santa Barbara Foundation and led Jordan to join the organization, where he stayed for nearly seven years as director of communications. In this capacity he helped the organization extend its power to build even more resilient and inclusive communities throughout Santa Barbara.
Building inclusive communities are vital to Jordan.
"I believe that we should have the audacity to envision a world that serves us all and is better for us all," he said.
"It is not lost on me that I have been given so much in this world," he explained. "There are so many twists in my life that could have gone really negatively, especially as a Black, queer man in society. So, I am reminded of Trayvon Martin, who wasn't so fortunate. He is a reminder to me to always do my best, and do what is right by him. I take that very seriously – it could have been me."
Jordan's passion for social justice directly benefits the community, particularly UCSB students and IV residents, where much of his work with Supervisor Laura Capps is focused.
"Our team is working to make government more accessible to the people and to bridge transparency and open lines of communication through relationship building," he said. He credits Leading From Within for giving him the time and space to reflect on his leadership style, allowing him to be most effective.
I am forever grateful to Leading From Within for opening my eyes and encouraging me to look inward so that I can do better outward.
"Leading From Within provided space for me to recognize, reflect and refine my leadership skills. I think often we go through life and don't have those pauses to self-reflect and the biggest outcome for me was this self-awareness."
"The Emerging Leaders program also empowered me to share my thoughts and understand that my voice matters," said Jordan, who as a young newbie was intimidated by the nearly 100- year-old Santa Barbara Foundation. He said the Emerging Leaders experience also allowed him to forge deep connections with other social sector leaders, and he remained involved, serving on the Emerging Leaders Alumni Leadership Council.
Jordan, who admits he has a knack for not saying no, has truly taken his childhood desire – to create meaningful community – to heart, making everything he touches better.
Other local organizations lucky enough to get Jordan on their boards, or as a volunteer, included Youth Making Change, Healing Justice Santa Barbara, the Fund for Santa Barbara, the Pacific Pride Foundation, Community Formation Commission, the Police Chiefs Advisory Council, Endowment for Youth Community, Unite to Light, Santa Barbara County Democratic Central Committee, Santa Barbara Independent Advisory Board, and the Santa Barbara Dance Institute. Jordan also co-founded Juneteenth Santa Barbara, an annual event to celebrate the freedom of enslaved African Americans in the U.S. He is also especially proud of his work spearheading The Healing Space at UCSB (when he was co-leading at Healing Justice Santa Barbara), a specialty clinic that provides psychological services to Black and African American
clients of all ages.
Jordan said he gives grace and honor to his parents for the support and love they instilled in him, and to his partner, York Shingle. "He is my person, keeping me grounded and always supportive of my wild and outlandish ideas!"