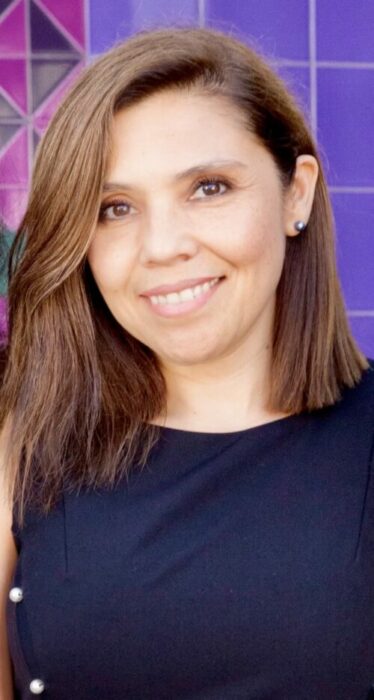 Founder, PEAC Foundation
Director of Evaluation & Programs, James S. Bower Foundation
The Katherine Harvey Fellows (2010-11), Courage to Lead (2018-19) Programs
Dr. Patricia Madrigal carries the lessons from her childhood in her heart and in her work as a passionate advocate for low-income, first-generation college students. The daughter of Mexican immigrants and the first in her large family to attend college, Patricia represents the students she has supported throughout her career as Executive Director and a founding member of SBUnified's PEAC College Readiness Initiative, as Founder of the PEAC Foundation, and Director of Evaluation and Programs at the James S. Bower Foundation. Her personal story of perseverance and achievement mirrors those of the students she serves.
Patricia grew up in a tight knit community in South Central Los Angeles, where neighbors took care of each other's homes and children. Family, community, hard work and being "servicial" were the values guiding Patricia's childhood. To be "Servicial " loosely translates to "being helpful" yet in Spanish the word encompasses so much more and it's in this spirit of service that Patricia has dedicated her life.
"We grew up poor, yet my parent's strong farming community practices of helping others by providing clothing, food, and services, was how my siblings and I were raised. I didn't realize until much later that was philanthropy," said Patricia.
Her parents sought the American dream, hoping their children would break the cycle of poverty by attending college. Patricia felt it was her responsibility to succeed. Her father always said "echale ganas" [give it your all, no excuses].
And so it was, without any excuses and beyond expectation that Patricia not only graduated from UCLA but went on to complete a Doctorate from USC in educational psychology. Patricia discovered a passion for research as an undergrad working in a psychology lab conducting field work in special education. This interest followed her to grad school as a research analyst studying neuropsychology and developing early childhood programming. These experiences solidified Patricia's dual passions for research and education.
It was as a coordinator for outreach and legislative affairs at First 5 that Patricia was introduced to Santa Barbara's philanthropic community. After three years there Patricia received "this gift" to help launch the PEAC program in partnership with Santa Barbara educator Jo Ann Caines, to support first-generation students achieve their goal and dreams of attending college, just as she had done years earlier.
"I tell students, if my family can do it, yours can too. It's very important to share my personal story, because their story is my story."
Launched in 2011 as a pilot at La Cumbre Jr. High and San Marcos High, the program is a collaborative effort supporting students with a network of mentors, tutors, academic counselors, scholarships, and career pathways. Patricia spent 12 years as executive director, leading a $1.4 million campaign and helping to grow the program from 35 students to now over 800 a year.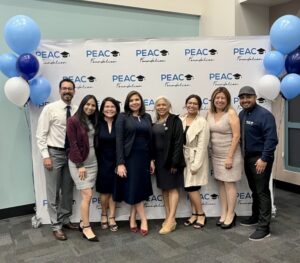 PEAC now has a network of over 1,200 alumni and it's this group that Patricia focuses on at the James S. Bower Foundation, expanding the post-secondary component by developing recruitment pathways for PEAC graduates in education and healthcare, with more initiatives planned. The program invests in students through innovative fellowships that enable students to live, work and serve in Santa Barbara.
It's the strong community relationships that have made Patricia's work both effective and rewarding and she credits Leading From Within for the networking opportunities the programs afford. Those profound connections have led to successful professional collaborations as well as introducing her to some of her best friends.
"Katherine Harvey Fellows was my introduction to philanthropy and new friends," she said. "It connected me to networks of support which would help define my career, my role as a leader, and commitment to the Santa Barbara community."
"Later in 2018, Leading from Within would again embrace me at a pivotal moment in my life. The Courage to Lead program provided the opportunity to reset…the team introduced me to the tools I needed to reflect and become more self-aware, and in turn recommit to my mission both personally and professionally."
"With Courage to Lead, you have to pause, you have no choice. You are allowed these moments of reflection, and you have these shoulders to cry on, and this circle of trust to support you, and that's what is so magical about Leading From Within."