Seasonal Retreat Series
Our Courage to Lead seasonal retreat series consists of five quarterly multi-day retreats over a year, plus monthly two-hour small group Leader Circles between retreats.  Since 2008, 170 Executive Directors of California nonprofit organizations and other senior social sector leaders have completed Courage to Lead.  Our current cohort began its series in October 2019.  The dates for the retreats of the current cohort are:
Monday, October 28, 2019, 4PM – Wednesday, October 30, noon
Monday, January 27, 2020, 4PM – Wednesday, January 29, noon
Monday, April 6, 2020, 4PM – Wednesday, April 8, noon -POSTPONED-
Wednesday, August 5, 2020, 1:30PM – Saturday, August 8, noon (one extra day) -POSTPONED-
Monday, November 9, 2020, 4PM – Wednesday, November 11, 1PM -POSTPONED-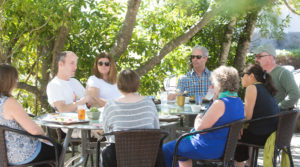 Our year-long program provides experienced social sector leaders with opportunities, individually and in community, for personal and professional insight and growth.  The Courage to Lead program:
Renews heart, mind and spirit through exploration of the inner life of leaders
Provides a rare opportunity to slow down and reflect
Explores practices that help sustain one's vocational vitality
Builds a safe and trustworthy community of peers
Courage to Lead retreats provide an opportunity for nonprofit executives to renew themselves, look at their own approach to leadership, and build a deep, trusted community of peers. Meeting quarterly in retreat with a group of other nonprofit leaders provides the opportunity to build a deep and trusted community of peers.  And our monthly Leader Circles allow participants to continue the work and reinforce their learnings between meetings in a small group environment.
What happens at a Courage to Lead retreat?  In large group, small group, and solitary settings, we make use of personal stories, reflections on leadership practice, and insights from poets, storytellers, and various wisdom traditions. Often we focus on a seasonal theme, using the rich metaphors of the natural world to explore vocational and life questions.  Over time, a deep trusted community of peers is created, and each participant has focused time and space to make progress on core questions they are holding about their life and work.
Retreats are held on the beautiful Pacifica Graduate Institute campus, nestled among towering, ancient oaks with mountain views. Located in Montecito, just south of Santa Barbara and minutes from tranquil beaches, this setting provides the perfect environment for personal renewal and reflection. Retreats generally begin at 4PM on Monday and end at noon on Wednesday.
When nonprofit leaders have completed a year-long retreat series, they graduate into our Alumni Program, with continued opportunities for peer community, retreat and renewal, and resource sharing.  The great majority of our Courage to Lead alumni continue to engage actively as part of the growing Courage to Lead alumni community. You can find a Courage to Lead alumni listing here.