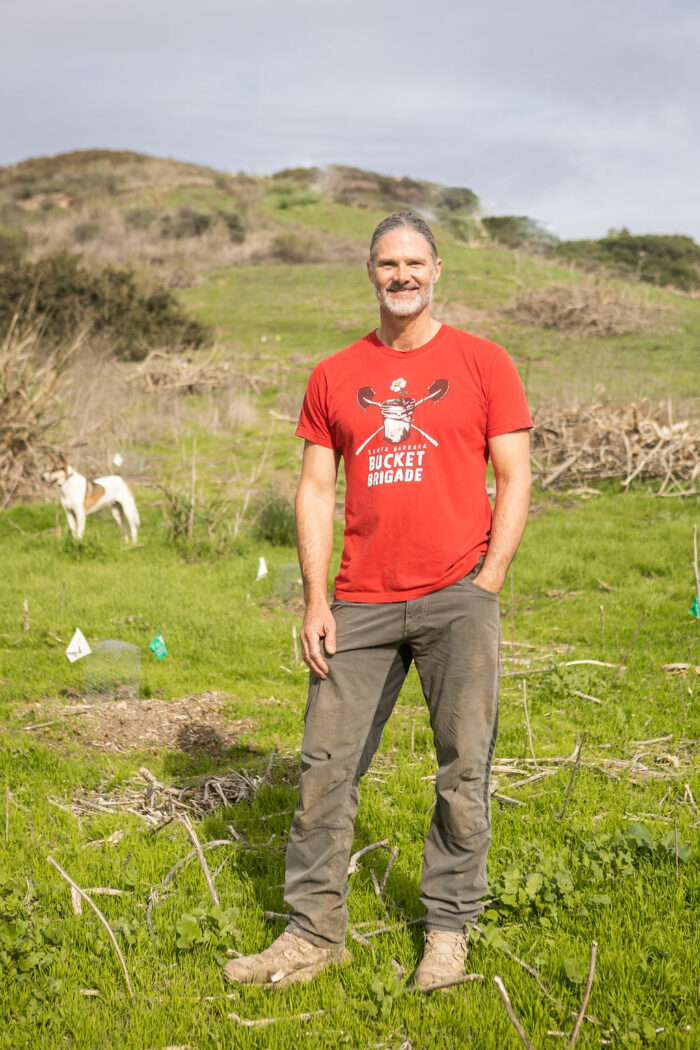 Co-founder and CEO of Santa Barbara Bucket Brigade
Courage to Lead, 2019- 2022
Decades before Abe Powell became known as the master behind the Bucket Brigade, he was a 25-year-old Vassar grad who moved back to his Santa Barbara hometown to help his parents.
Abe's dad owned a skateboard company that Abe helped to revitalize when he took over production. He would continue crafting boards alongside his father for seven years, an experience Abe credits with teaching him process engineering and systems thinking.
Abe was also helping his mom build a home in Santa Barbara's Mountain Drive community. An environmental activist and early solar energy adopter, Abe lived in a trailer on his mother's property with a solar powered well and no power. It was the early 90s when not much was known about solar, so Abe tinkered and taught himself. It was during this time that a literal light bulb lit up, inspiring Abe to start his own solar energy company, Solforce, nearly 15 years later.
"It was a spiritual decision," he said. "I left a successful family business and created a start-up in a new industry. I knew that if I wanted to see change then I needed to model the change in a positive, proactive way."
While living on Mountain Drive, Abe experienced another life-changing moment: the 1995 500-year storm. He was sleeping on his uncle's couch when he awoke to a "creek running through the house."
"It was an unimaginable, radical experience," recalled Abe. "There were at least two miles of mud and debris."
Equipped with a shovel, Abe joined neighbors who went door-to-door digging people out. There were nearly 30 homes filled with mud, rocks and debris, and the neighbors came together to tackle the disaster one home at a time.
"It definitely felt impossible," said Abe. "The problem felt too big, and I thought: we can't solve this with a bunch of guys with shovels." And yet, they did. It showed Abe how a community can pull together to help people in need and do so in an enjoyable way. There were work parties and potlucks. Everyone brought something to the table.
"I dug for seven days and never felt so connected to people I didn't know," he recalled. "I knew that that feeling of solidarity and pride was something that I wanted more of in my life." So, he became president of the Mountain Drive Community Association and joined the volunteer fire department. And then, in 2008, the Tea Fired broke out, and Abe's training was put to the test.
Tragically, the fire was faster than the fire department and hundreds of homes were lost, including those of Abe's mom and uncle. Yet, the community experienced complete success evacuating the neighborhood (reverse 911 failed and neighbors relied on a phone tree and door-to-door notification to alert others). Abe appointed himself the community relief coordinator and created a database for sharing information and resources. At the time, there were strict and unreasonable protocols on rebuilding that infuriated Abe, so once again, he took action and ran for a seat on the Montecito Fire Protection Board, which he won.
He was serving on the fire protection board, and running his solar power company when the Thomas Fire erupted in 2017.
"I felt like I had spent the past two decades preparing for this moment," he said. "It was an incredible pendulum swing of emotions. We had elaborate fire prevention measures in place and were now facing the biggest wildfire in California history up to that point. We saved many homes and all of that thankless work felt validated."
Then the rain came and changed everything.
Abe went from elation to despair. He recalls sitting at the kitchen table with his wife, desperate for a way to help friends whose home was filled with debris.
"I just thought there has to be something we can do," he said. "There's always something you can do. The big picture stuff wasn't working, but I knew I had a bucket and a shovel and with that I could do something concrete and maybe make a small impact."
Through social media, Abe invited the community to join him and, on January 28, 2018, 50 people showed up. They succeeded in digging out his friends, and neighbors pleaded with him to come to their homes. That's when the Bucket Brigade began. Abe knew how to scale and process, eventually creating a staging area and securing machines to help. All told, over 3,500 volunteers participated, 100 homes were salvaged, 66 acres of open space cleared and five miles of neighborhood trails were restored.
In this simple act of digging, Abe found his calling.
It's a calling he shares with the next generation. The Santa Barbara Bucket Brigade believes community resilience means using lessons from the past to strengthen and prepare now for an uncertain future. He shares this teaching through the Bucket Brigade Academy, a leadership training program for high school students interested in community resilience. In expanding the Bucket Brigade and establishing his nonprofit, which now responds to a variety of community issues, including food insecurity, Abe turned to the wisdom and training provided by Leading From Within's "Courage to Lead" program.
"Courage to Lead taught me how to frame discussions about leadership, build my relationships and expand my network," he said. "The connections created at Leading From Within are based on trust and shared values, and those are the things that weave together the safety-net in a community."
Abe admits he initially thought the program would be a retreat, but quickly realized there was something profound happening.
"To engage with other nonprofit leaders and move from competition to collaboration is critical to community-building and crisis management. Every nonprofit should put their leaders in this program."
"My favorite part of Courage to Lead was learning how to ask open and honest questions – it's such a valuable exercise and applies to all aspects of life. Courage to Lead also expanded my perspective and gave me a deeper appreciation for diverse frames of reference."