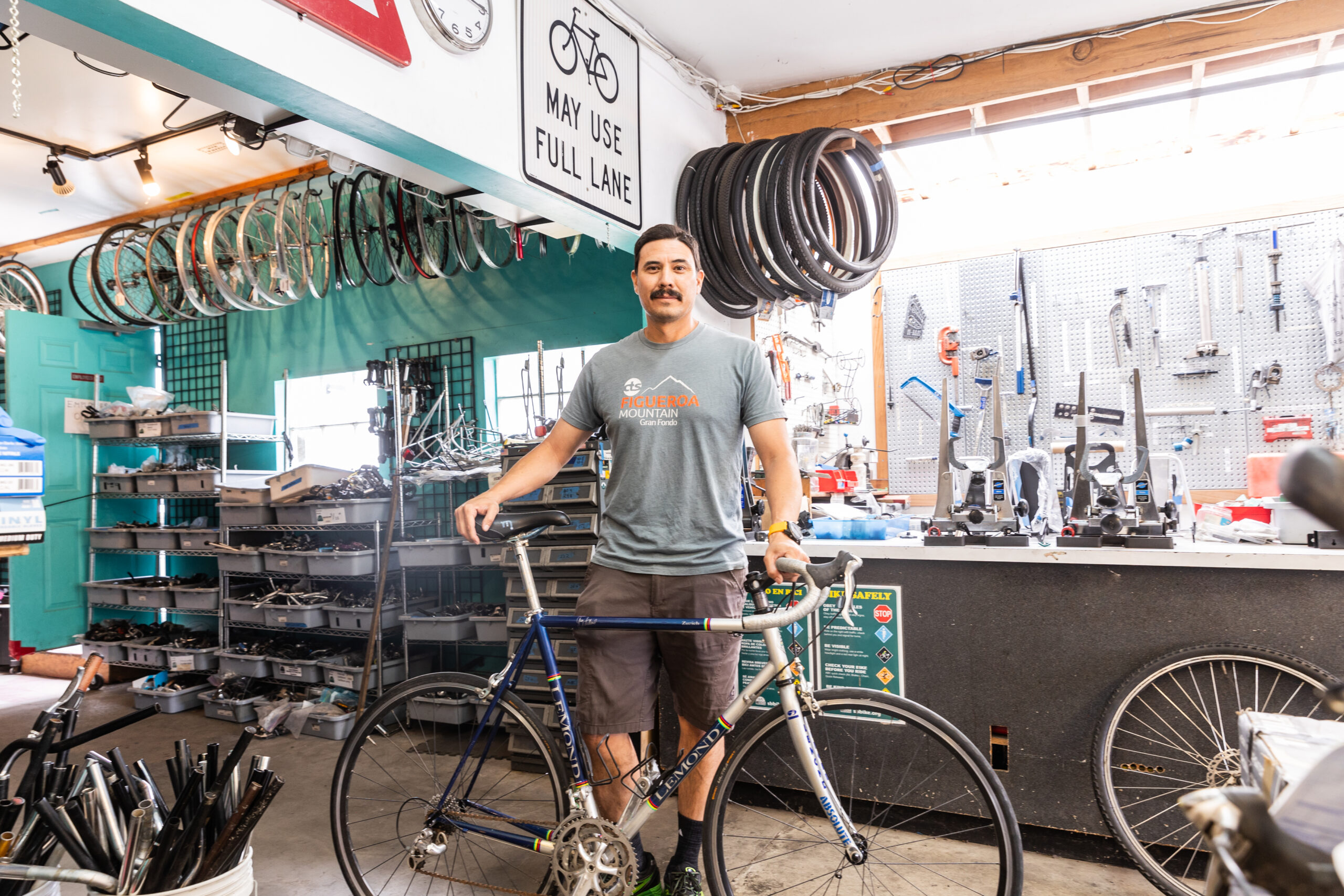 Shop Manager Bici Centro
Emerging Leaders Cohort 9
Michael Velasquez remembers first discovering the joy of riding his bicycle when he was a child,
cycling with friends around the neighborhoods of his small hometown of Templeton, California. It
was the late 1980s and his bike represented freedom.
It was also as a youngster that Michael realized how much he liked working with his hands. He
and his nuclear engineer dad took apart a bicycle and then put it back together – just for fun.
Michael recalls watching his dad, who had never done that before, succeed with patience and
determination.
"I was in middle school at the time," said Michael. "And that was my introduction to tools and
fixing things. It was a lot of fun and I learned that I really liked tinkering and figuring out how
things fit together."
That passion for fixing things led Michael to become an automotive upholsterer, a bicycle
mechanic and a bicycle builder, before moving onto cycling safety and education. He now works
as the shop manager at MOVE SB County where he continues fixing bikes and other
challenging issues as the manager of several staff and a steady stream of volunteers.
Michael manages Bici Centro, two community bike shops, that encourage people to ride by
providing low-cost refurbished bicycles and parts, bike maintenance, and opportunities to learn
skills through the shop's do-it-yourself program. Bici Centro is a division of MOVE Santa
Barbara County (formerly SB Bike + Coast), the nonprofit that advocates for equitable county-
wide infrastructure for walking, biking and public transit and inspires residents to choose active
and sustainable forms of transportation.
"The community relies on MOVE SB County, and I have a lot of people under my care," said
Michael. "It's important to have leadership skills, like those taught at Leading From Within."
Michael participated in the ninth cohort of the Emerging Leaders program, at the suggestion of
Ed France, his former boss, and called the experience "life-changing."
"Within the first two weeks I was implementing what I had learned through the StrengthsFinder
course in my shop," he said. "It really helped my staff grow and after every Emerging Leaders
session I'd come back rejuvenated, sharing articles, poems, and insights from the program with
my staff."
"I learned so much and made so many connections that were not only good for me personally
but good for the program, the organization, our mission and, in turn, good for the community. It
almost feels like I'm still in the program because of the long-lasting partnerships I formed."
And, while Michael admits that the content was incredibly valuable, it is those relationships that
are the cornerstone of the program.
"The program leaders create this supportive environment where we are equal and can be
vulnerable," he said. "We are all there to listen, commiserate, encourage and support each
other, and each session you meet someone new and connect on a really profound level."
The lessons gleaned from the Emerging Leaders program impacted Michael's personal life as
well. As a college athlete, he now coaches his son's soccer team, and Michael said many of the
skills he learned at Leading From Within inspire his work with youth, paying it forward to the
next generation.