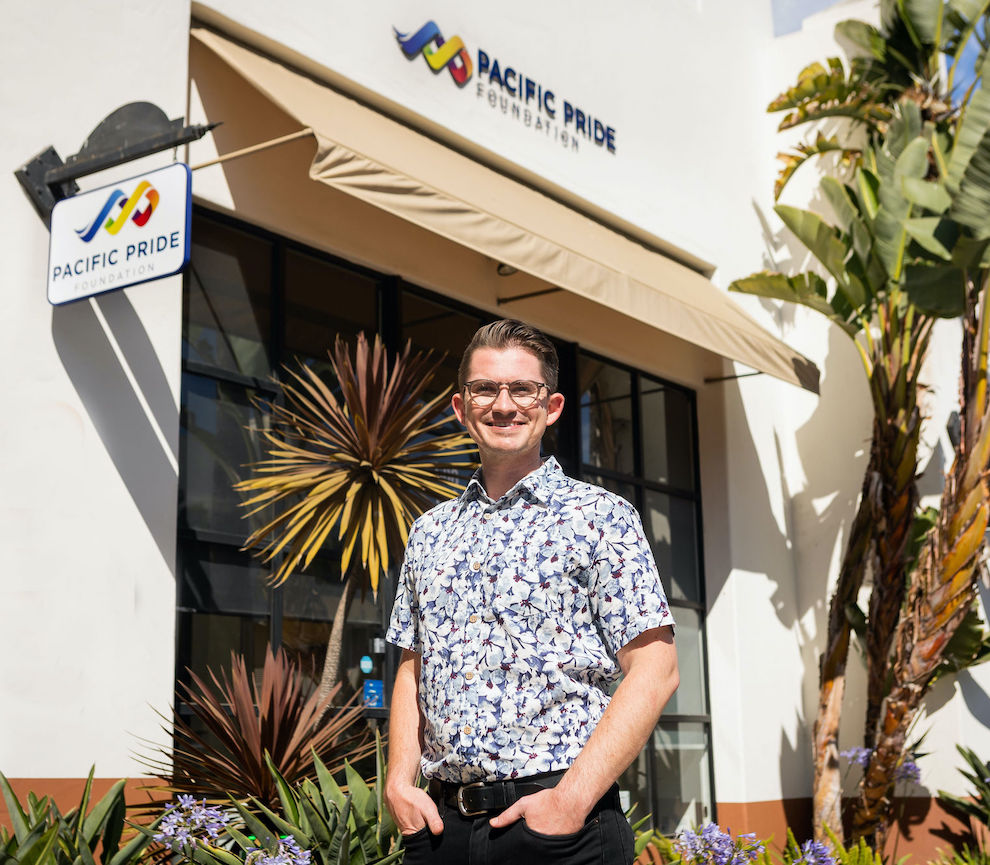 Development Director | Pacific Pride Foundation

Katherine Harvey Fellows 2019-2020

Tyson Halseth has spent the better part of his career working for the Pacific Pride Foundation. He started fresh out of UCSB twelve years ago, as a part-time programs assistant, and within six months he was named Development and Events Manager, giving him an immediate, on-the- job education in nonprofit operations. Tyson oversaw all events, including the Pacific Pride Festival, which attracts approximately 4,000 attendees, and the Heart & Soul AIDS Walk.
These events are a far cry from Tyson's childhood summer job, driving a tractor in his hometown of Patterson, California. This northern central valley town is small and conservative, and not particularly LGBTQ-friendly. So, when Tyson came out as gay in high school, he lacked
peer and mentor support. College gave him the chance to create the life he wanted and at UCSB Tyson found his people and his activism. He knows firsthand how valuable Pacific Pride Foundation's services are, having grown up without any LGBTQ resources.
Yet, Tyson has not always been with Pacific Pride. He spent seven years working with McMorrow Consulting, a legal mergers and acquisitions firm. In this job, he learned about the public sector and gained a lifelong mentor in his boss, Bobbie McMorrow.
While consulting, Tyson returned to Pacific Pride Foundation as a volunteer, and later as a Board member, charged with filling several staff leadership positions. "It was eye-opening to serve on the Board and see the nonprofit from a different perspective; it gave me a more holistic scope of what it entails to run the organization."
He was still on the Board when COVID-19 presented, and when the Foundation's executive director left, just one month before the pandemic upended the world. Tyson increased his Board responsibilities, helping to recruit a new executive director and reimagining fundraising
strategies.
It's fair to say that Tyson's heart was always in the nonprofit sector, and specifically with Pacific Pride Foundation. So, when the new ED joined, with her impressive and vast experience, Tyson accepted her offer to rejoin the Foundation as Development Director.
It was before the coronavirus hit that a friend forwarded Tyson an email about the Katherine Harvey Fellows program. He wasn't sure until a second, unrelated friend forwarded him the same email. He took it as a sign, applied and looking back is so appreciative for the
experience.
"The Katherine Harvey Fellows program was incredibly enriching and thoughtfully structured," he said. "Our cohort leaders were so intentional about creating space for us to come together and authentically ask questions, actively listen and share our challenges."
"You don't typically launch into that level of depth with people you've just met, yet that's what is really impressive – Leading From Within creates these special groups of like-minded professionals who forge strong connections allowing them to be vulnerable and genuinely share
their struggles."
At the time, Tyson admits he wanted to expand his professional network beyond the LGBTQ community and learn more about other organizations and their work. He now collaborates regularly with colleagues he met through the program, and continues to meet monthly with a
smaller leadership circle, even two years after completing the Katherine Harvey Fellows program.
"I walked away from every session feeling re-centered and ready to take on the next challenge," Tyson shared. As it turned out, the challenges would dramatically escalate during the pandemic and Tyson was grateful to draw on lessons from his KHF training.
"Clearly articulating your values helps lead you forward during difficult times, and leading with integrity, honesty, and kindness is paramount."