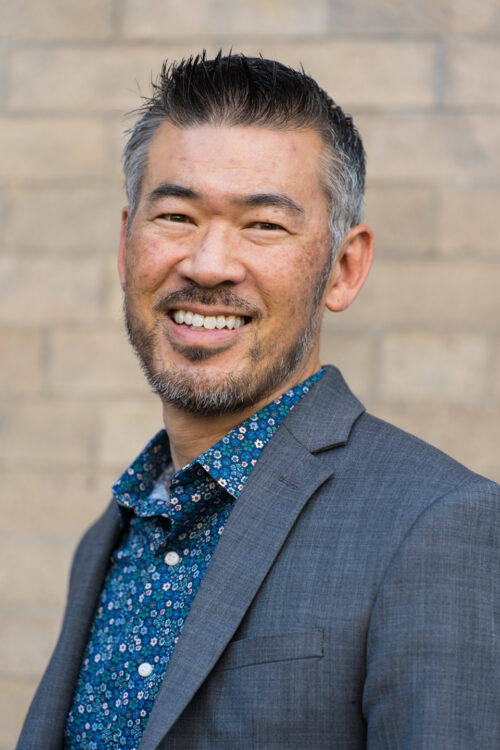 Deputy Director | AAPI Equity Alliance
Courage to Lead Participant
The Tans were one of just two Asian American families at Norbert's high school in Westchester
County, just outside New York City. It was the Tans and the Lees. The rest of the population
(and most of Tan's friends) were mostly Jewish, Italian, or Irish.
So, it was a culture shock when he arrived at UC Berkeley's campus for college. It was, he
recalled, the first time he was surrounded by students who looked just like him.
College awakened a consciousness in Norbert, inspiring him to explore his roots and reflect on his feelings of perpetually being perceived as "foreign" despite having been born in the United States, a second-generation Asian American.
Feelings of "otherness" pervade our country and followed Norbert in his professional life, where he said he worked in predominately "white spaces." He started out in advertising before pivoting to the nonprofit world, first as a managing director of Rubicon Theatre Company, and later as executive director for the Ventura College Foundation (VCF), where he stayed for 10 years. At VCF, Norbert helped solicit the largest single planned gift in Southern California community college history – the $12M gift to support multiple programs at Ventura College. Tan also spearheaded the college's Promise program, one of the first in the state, which ultimately provided more than 10,000 Ventura County high school graduates with free tuition their freshman year. Tan's commitment to higher education and student success led him to Antioch University, where he served as Associate Vice Chancellor for Institutional Advancement.
In all of these roles, and even during his fellowship at the Kennedy Center in Washington, D.C., Norbert recalled often feeling like the only Asian American in the room. Perhaps the only exception was Norbert's board service early in his career at the East West Players, a theater company dedicated to raising the visibility of the Asian American experience through theatrical productions.
This passion, to inspire a world free of racism, manifested years later when Norbert accepted his current position as Deputy Director of AAPI Equity Alliance, an organization that serves and represents 1.5 million Asian Americans and Pacific Islanders in Los Angeles County. Norbert also serves on the leadership team for Stop AAPI Hate, a national incident reporting center that was created in the wake of the COVID-19 pandemic, to document the alarming escalation of hate incidents against AAPIs.
Norbert credits Leading From Within for connecting him to his current role.
"Seven years ago, I was part of Courage to Lead's cohort five and that's where I first met Manjusha (Manju) Kulkarni," explained Norbert.  Manju is the executive director of AAPI Equity Alliance, and although the two participated in the 13-month program, they didn't really connect until reacquainted nearly a year later at an alumni retreat.
Norbert and Manju had been partnered in a dyad exercise and when the retreat ended, and they were encouraged to continue monthly check-ins, the pair took it seriously, talking regularly. Those conversations turned into an executive coaching relationship (Norbert was working as a coach at the time) and eventually led Norbert to accept Manju's offer to join her at AAPI Equity.
"The value of Courage to Lead is that it teaches us to be open to opportunities, and to actively listen to each other and the world around us," said Norbert.
"I found myself open as a leader to hear what was going on and my relationship with Manju is because Courage to Lead gave us the tools and space to build trust."
"The trust we had built at Leading From Within allowed us to forge a strong and effective team."
Norbert said the other critical lesson from Courage to Lead is knowing your inner leader and this
is vital to the work at AAPI Equity, which focuses on understanding one's lived experiences and
sharing vulnerabilities.
When Norbert reflects on his own journey, he describes himself as an Asian American
professional caught in a moment that he is helping to convert into a movement.
AAPI Equity is advocating for policy changes on both the national level and in Sacramento. The organization has three live bills in the works, advocating for safety in streets, public transit and retail spaces. All of the proposed policies are non-carceral, focusing instead on education.
"In every crisis there's an opportunity and as horrific as the pandemic was, it created the condition where Asian Americans were being blamed for the virus; this pushed us to mobilize and it's given us a platform to talk about racial and social justice, which ultimately benefits all communities."