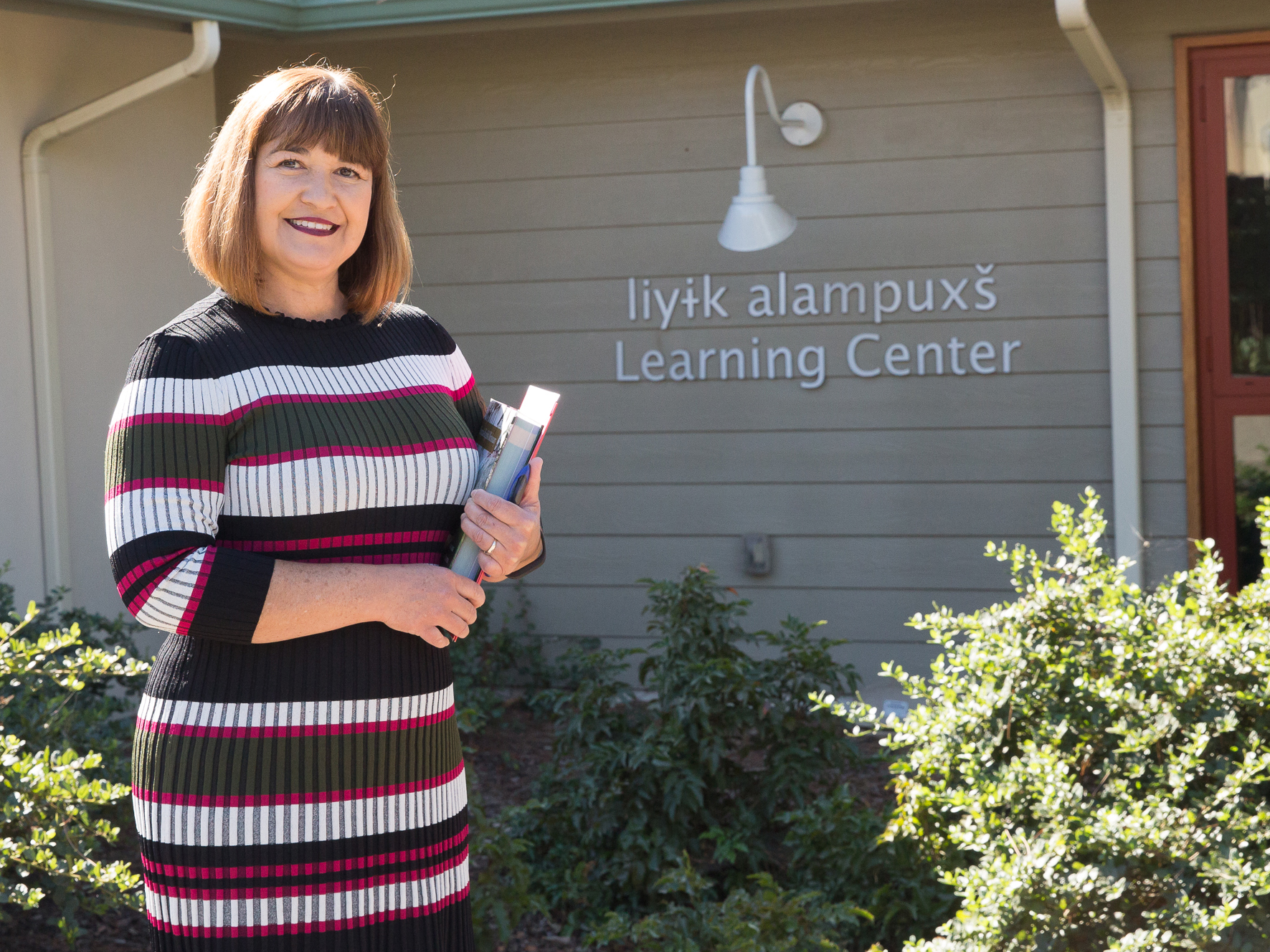 Dr. Nicolasa "Niki" Sandoval, the first member of the Santa Ynez Band of Chumash Indians to earn a doctorate in education, never even considered going to college. She didn't think it was possible.
The Native American population shares many of the same issues that plague youth nationwide. Among those: addiction, mental health, and violence. Niki believes that education is the path forward.
Working since the age of twelve – Niki cleaned hotel rooms in Solvang – she decided to change her course. Soon after high school, she bought a car and signed up for classes at Hancock College, where she learned how to be a better student and soon fell in love with the process. She transferred to Pepperdine University and moved to Washington, D.C. after graduation to work at the Smithsonian's National Museum of the American Indian. There, she juggled work while earning a master's degree at George Washington University.
A first-generation college graduate, Niki credits her parents for encouraging a strong and clear work ethic and an intellectual curiosity. It's what led her to go even further with her education. Niki realized she had something of value to offer to her own people and returned to California to earn her Ph.D. in education at UC Santa Barbara.
"Education is something that someone works for and earns and gets to keep and share," she said. "As a Native American community, we've endured so much oppression and tragedy as indigenous peoples that to me, the success gained through education starts to restore some of that loss."
For the past decade, she's served as the Education Director for the Santa Ynez Band of Chumash Indians, so perhaps it's no surprise that the graduation rates of tribal students has significantly increased during her tenure. The college graduation rate has tripled while high school graduation rates doubled.
Niki believes it's not an accident that she ended up in her current position. She says her connection to "good people who cared for me and opened doors" has been crucial to her success. Ken Saxon was Niki's mentor during the Katherine Harvey Fellows program and among the first to open a door, inviting her to join the inaugural Courage to Lead cohort.
______________________________________
"I clearly remember my first meeting and the sound of my feet rapidly pacing the wood floors and thinking, 'why am I rushing?' "
______________________________________
"I clearly remember my first meeting and the sound of my feet rapidly pacing the wood floors and thinking, 'why am I rushing, what's so urgent?'" she recalled. The sound struck her in a visceral way. "I learned the importance of slowing down and really being present," she said. "That recognition has kept me engaged in the practice of consciously moving through the world and leading a less divided life."
Leading From Within also taught her a practice she turns to in times of challenge: when the going gets tough, turn to wonder.  As someone who deals with human beings on the continuum of life, Niki said she's often confronted by personal trauma or family issues that go beyond her job description. "I wonder what am I learning from this; I wonder how I can be a better colleague, I wonder how I can be more present."
Leading From Within, she stressed, fosters deeper connections and provides a common vocabulary among colleagues that has led to direct benefits for her Education Center.
One such benefit is her fruitful partnership with CALM Executive Director and LFW Alum, Alana Walczak.  Thanks to this relationship, CALM realized they were not providing services to a part of our community deeply in need of access to CALM's counselors.  CALM now offers full-time therapeutic services at the Education Center.
When she's not advocating on behalf of families, Niki turns to music. She recently took up guitar and approached it like she does everything – with fervor and passion.  She's writing songs, taking voice lessons and even fashioned her own instrument out of a cigar box. She says it's a great stress reliever and that it's opened new portals of creativity she never knew existed.
For those who know her, it's no surprise.