Our Words Collide Documentary Feature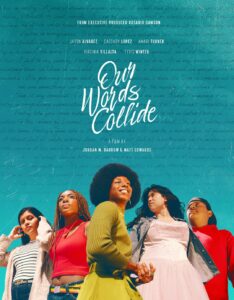 The documentary
Our Words Collide,
screening at the
Santa Barbara International Film Festival
this weekend, offers inspiration through poetry. Five youth share their stories as they digest the tumult of life through artfully crafted spoken word. Poetry becomes their superpower, seemingly the tool they use to cope, process, and supercede, articulating the catharsis that is young adulthood.
        Virginia, Jason, Tryis, Cassady and Amari offer a window into their worlds in powerful and vulnerable ways. Their poetry is evocative, playful and stunning. Their craft serves as a reminder that poetry isn't a thing past, inaccessible or relevant only to specialists. A thoughtfully written speech or  eloquent lyrics in music are just as insightful and inspiring as anything written in iambic pentameter. The thread running through all of their lives is the Get Lit program in Los Angeles, which supports their art and performance. What a powerful tool to offer students to digest hardship and inequities and articulate change.
      In our work at Leading From Within we often use poetry as prompts to pause and reflect. We use great poems to see our work, our lives, to see ourselves with a broader perspective. Not everyone resonates with each poem, nor sometimes poetry at all.  But like the name of the film and its purpose, the spoken word is where the inner world is expressed and shared. This film expresses a sort of answer to the question it helps to pose: What is poetry? Here is my answer:
Well chosen, crafted words, expressed authentically, are where our inner and outer worlds collide. It is here where we can empathize, reflect, and better understand both ourselves and others.  I have such appreciation for these five performers, this program and this film for sharing a window into these five worlds. I recommend getting out to see the film. It was poetic.
Ed France
LFW Executive Director
SCREENING IN THEATERS: 
Sat, March 5 – 4:20 PM – Fiesta #4

Sun, March 6 – 11:40 AM – Metro #3
Directed by Jordan W. Barrow, Matt Edwards
94 min – United States
Documentary Competition | World Premiere