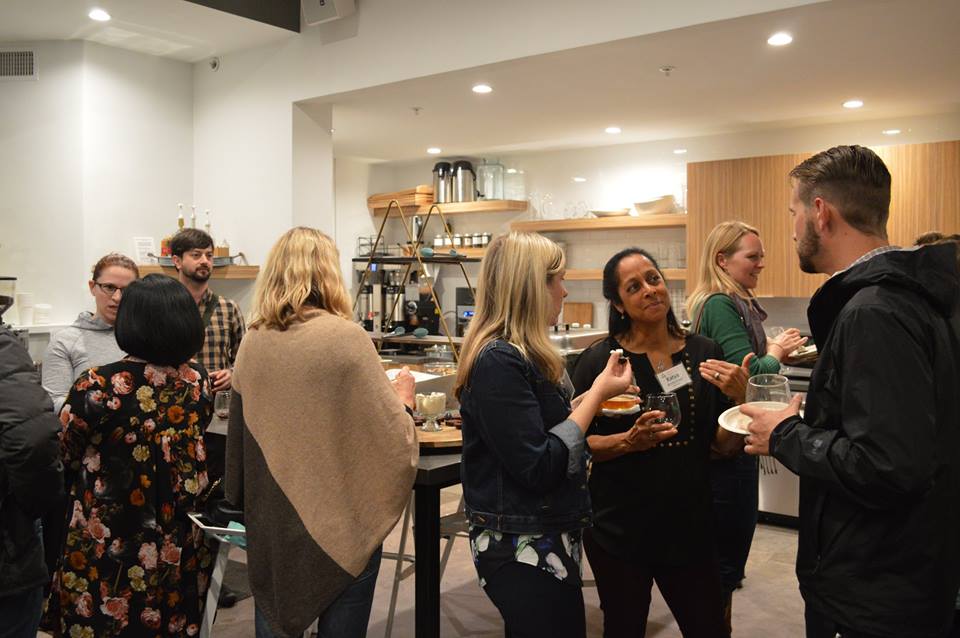 Thank you to those that participated in the 2018 Annual Giving Challenge to help Leading from Within continue to support and connect our social sector leaders!
Speaking of thanks, several alums attended the LFW Gratitude Party on November 28th shown above.
Ken Saxon facilitated a Ripple Effects Mapping session with several CTL alums to visually analyze the outcomes that Courage to Lead has had on the broader community. More will be shared on this process in the coming months.
---
Roger Durling (Cohort 6) has published several inspiring and personal interviews with CTL alums in recent months, including:

Ginny Kuhn (Cohort 7) who shared that what she likes most about her role as the founder of Prison Yoga Santa Barbara is "connection."
Kate Carter (Cohort 2), founder and president of LifeChronicles, which produces legacy videos for the elderly, seriously ill, and others nearing the end of life.
Erik Talkin(Cohort 2), Executive Director of the Foodbank of Santa Barbara County, shared the interesting life path that led him to focus on nutrition.
Rosalina Macisco (Cohort 4), who was also recently recognized as a local hero in an article in the Santa Barbara Independent for her work as Founder of the Santa Barbara Dance Institute.
Victoria Juarez (Cohort 4) is the new CEO for Scholarship Foundation of Santa Barbara.
Joyce Stone (Cohort 5) has retired from the County of Santa Barbara and moved to Roberts Creek, British Columbia.
Gracie Huerta (Cohort 5) has started a new position (Performance Management & Bilingual Specialist) at UCSB Dining and Housing Department.
Cyntha Campoy Brophy (Cohort 7) has retired as Executive Director of ArtworkLA and she has been succeeded by Shelby Williams-Gonzalez (Cohort 6).
Douglas Flaker (Cohort 7) accepted a position as Program Development Director for the San Diego American Indian Health Center.
Vera DeVera (Cohort 4) has just joined the Weingart Foundation as its Director of Leadership for Movements to help launch a new Fellows program for emerging movement builders.
Eli Akira Kaufman (Cohort 7) will be starting his new role as Executive Director for the Los Angeles County Bicycle Coalition at the beginning of the year.