Emerging Leaders | Info Sessions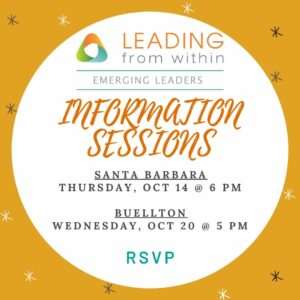 If you are interested in learning more about our Emerging Leaders 2022 program, we encourage you to join us for one of three information sessions, being held in Santa Barbara and Buellton.
At the info session, we will discuss the program, application and selection process.  You will have the opportunity to hear from Emerging Leaders Instructors Katya Armistead and Miles Ashlock, as well as meet several of our alumni to learn about their experience in Emerging Leaders. 
SOUTH COUNTY INFO SESSION 2021
Date: Thursday, October 14
Time: 6 – 7 pm
Location: KIVA Co-working | 1117 State St, Santa Barbara, CA
NORTH COUNTY INFO SESSION 2021
Date: Wednesday, October 20
Time: 5 – 6 pm
Location: Figeuroa Mountain Brewery | 45 Industrial Way, Buellton, CA 93427
We ask that you please RSVP below if you plan to attend the event:
We are here to help.  If you have any questions or need assistance, please feel free to contact us by email or by phone: 805-770-3232