RESCHEDULED- Arroyo Hondo Alumni Hike
May 21 @ 11:00 am

-

1:30 pm

PDT
We have rescheduled to Sunday, May 21 when the wildflowers should be incredible!
Let's Get Outside!
Arroyo Hondo Docent Led LFW Alumni Hike
Hosted by Katherine Harvey Fellows Alumni – Open to all LFW alumni!
Sunday, May 21
11:00 am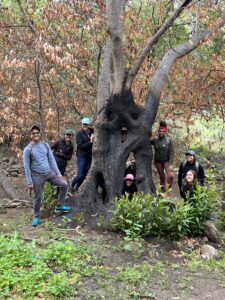 Join us for a 90-minute docent-led hike followed by a picnic lunch (provided): experience and learn about the scenic Arroyo Hondo Preserve and the work the Land Trust for Santa Barbara County is doing to preserve this "Jewel on the Gaviota Coast." 
Here's an intro from their website: "The Arroyo Hondo Preserve is a magnificent canyon located west of Santa Barbara between Refugio State Beach and Gaviota State Park on 782-acres. Purchased from the Hollister family in late 2001, Arroyo Hondo is protected forever and managed by the Land Trust as a natural and historic preserve. The preserve is rich in Chumash and early California history and the canyon and meadows are thriving with wildlife."
If you haven't been there before it is located between Refugio and Gaviota on the right side of the freeway.
Space is limited to 30 people, so  RSVPs will be taken in the order they are received.
RSVP Here
It is recommended to wear layered clothing and bring a hat, sunscreen, and water.    FYI, pets are not allowed at this time.