Monday, August 8 at 4:00-6:00 PM via Zoom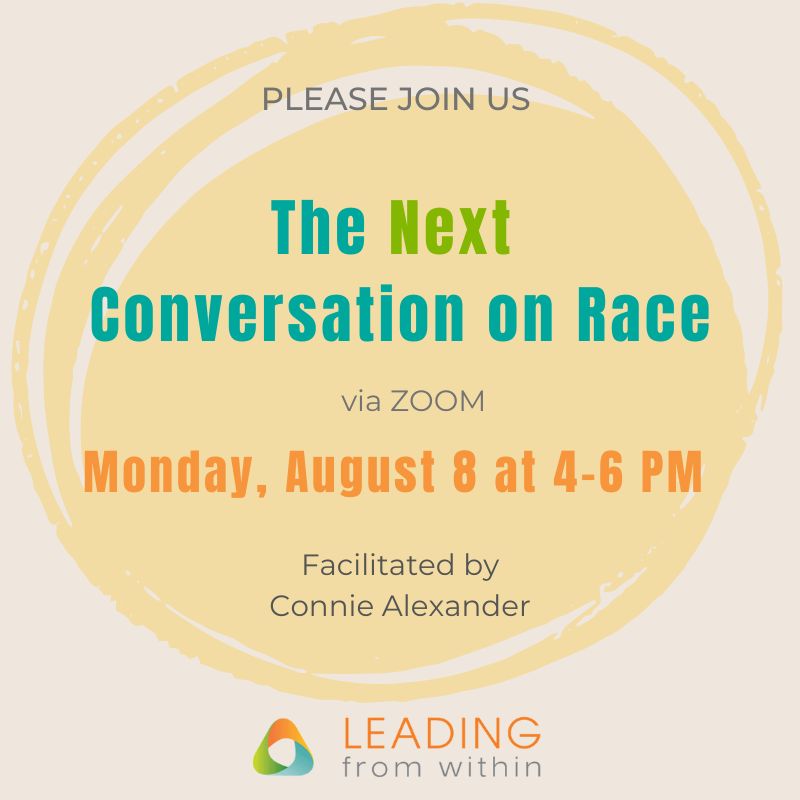 Our goal is to create a brave space for each other to engage in a meaningful discussion on racial issues.
What has changed since 2020? Is DEI still the best description for conversations on race? Should we be talking about reparations?
We hope participants feel the co-creation of a space for open discussion around difficult topics. Through openness and emerging relationships, our intention is to create accountability and change in the non-profit sector.
This gathering is only for those who attended the first conversation in June 2020.
Connie Alexander (Gateway Education; Courage to Lead) and LFW peers who have been convening since 2020 all invite you to examine, reflect, listen and build our connection as nonprofit leaders. See below for facilitator bio.
Register here:
You will receive an email confirming your registration, with zoom link and more. 
---
About the Facilitator:
Connie Alexander
Connie Alexander is one of the Founders and Co-Executive Director of Gateway Educational Services, and Gateway began in 2009.
She has 25 years of experience in higher education, including teaching and student services. She holds degrees in Political Science and History. Her role with Gateway includes daily operations, curriculum development, training, the College Readiness Program, and Summer Camps.
Gateway Educational Services is the only nonprofit learning in Santa Barbara County. We serve students in grades K-12. Our vision is to change the academic trajectory of students left behind. All programs are assessment-based, and curricula for improvement are created for each student.
Connie has held several leadership roles in the African American community in Santa Barbara, including the Black History Celebration Committee and the NAACP. 
Connie is a participant in the Courage to Lead 8th Cohort.
---
Additional Resources and Further Reading
History and Social Justice
Literature
Podcasts