Leading From Within
Investing in leaders serving the public good.
Our communities need inspired, capable, and connected leaders advancing the common good.  But the system in which our leaders operate is too often characterized by dysfunction, division, and a lack of investment. The inevitable result is that leaders and organizations fail to maximize their impact, and many good people burn out.
At Leading From Within, we invest in our social sector by developing, nurturing and connecting leaders.  The challenges of our world are complex.  Our goal is to foster a dynamic network of public-minded leaders that knows each other, trusts each other, and is better able to work together to improve our communities.
Our Programs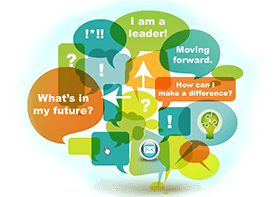 Leading From Within offers high-quality leadership development and renewal programs for professional and volunteer social sector leaders.  Our programs are intended to help leaders develop their ability to advance their important missions and support them in sustaining their passion and commitment over the long haul.  By doing so, we aim to help offset the severe and chronic underinvestment in human resources that epitomizes the nonprofit sector.
Courage to Lead – Since 2008, this retreat based program cultivates renewal, leadership and peer community for experienced social sector leaders from across California.
Emerging Leaders Program – Established in 2013, this program empowers, elevates and connects the next generation of professional nonprofit leaders in Santa Barbara County.
Katherine Harvey Fellows – This fellowship invests in emerging community leaders in Santa Barbara County. This program was founded in 1999 by the Santa Barbara Foundation.
Through investing in leaders and building authentic community among them, Leading From Within is helping to build the capacity of the nonprofit sector, nurture and sustain committed community leaders, and develop the next generation of engaged and involved citizens.

Our Network
At Leading From Within, our programs are just the beginning!  We actively invest in a dynamic network of our alumni to cultivate ongoing support, access to resources, and opportunities for collaboration and innovation. Our network of 200+ alumni includes leaders from nonprofits, government, education, philanthropy and the private sector who are all focused on the common good.
See Our Alumni: