Katherine Harvey Fellows Information Sessions
August 15, 2022 @ 12:00 pm

-

August 25, 2022 @ 12:00 pm

PDT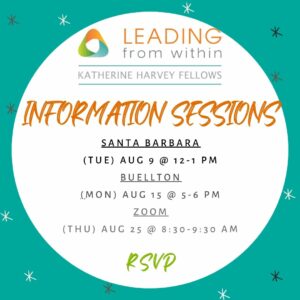 Join us to learn more about the Katherine Harvey Fellows program to see how this experience might serve you at this time in your leadership.
Katherine Harvey Fellows (KHF) is a unique opportunity for people who want to make a greater impact within their community through civic engagement. This program offers participants a space to understand their strengths in leadership, to connect with other professionals of diverse backgrounds and expertise, as well as to gain new knowledge on what it means to collaborate on addressing a critical community issue.
Our goal is for each participant to emerge from the KHF program feeling empowered to lead on issues and on behalf of people and communities they care most about. Importantly, as is true for all Leading From Within programs, we want each participant to develop and explore their own authentic form of leadership through a process of personal development and growth. All this with the overarching goal of empowering leaders to push for positive social change.
At the info session, we will discuss the program, application and selection process.  You will have the opportunity to hear from KHF Instructors Ben Romo and Brianna Aguilar, as well as meet several of our alumni to learn about their experience in the program.