Building Your Self-Care Toolbox
November 10, 2020 @ 3:30 pm

-

5:00 pm

PST

Free
Join us on Tuesday, November 10 @ 3:30-5:00 on Zoom!
Joanna Hill, Health Educator & Internship Advisor at  UCSB Health & Wellness, will be facilitating a virtual workshop for our Leading From Within network on how to "Build Your Self-Care Toolbox".
These are challenging and stressful times: We all need multiple self-care tools to be our best for ourselves, our organizations, and all our relationships. 
This workshop gives you a quick introduction to some of the best,  including:
Stress management

Compassion

Creating daily structure (nutrition, sleep, movement, rest)

Making time for self-care

Personalizing self-care, including for BIPOC
Join us in exploring new practices of self-care, and how they can be implemented into your daily routines. During this challenging moment in history – from a global pandemic to social rights movements and Election Day – providing personalized care to yourself is critical to your wellbeing and ability to continue leading our community.
To learn more about our facilitators, read their bio's below.
RSVP Here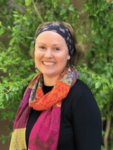 Joanna Hill is a Health Educator for the UCSB Department of Health & Wellness. Over the years, she has trained students, staff, and faculty on all areas of Health & Wellness, her passions being body image and meditation. Joanna enjoys exploring Santa Barbara with her family and sweet dog, Maisy.
Mallory Russell is a Health Educator with the UCSB Department of Health and Wellness. She teaches cooking series and workshops that focus on food, nutrition, and basic skills. With a background in landscape architecture, she always found herself drawn to food and has worked in a variety of culinary worlds: educational farms, commercial kitchens, school gardens, catering, health clinics, and teaching pop-up cooking and nutrition classes. These experiences drove home the power of food to shape our environment, our identity, our communities, and our health.
Arzoo is a fourth-year Biological Sciences B.S major. Her favorite aspect of being an intern is being able to teach several aspects of holistic health that are not normally talked about to the UCSB community. She loves being surrounded by like minded people who are just as passionate about health promotion and public health. Arzoo is pursuing a career in medicine, hoping to travel and work as a doctor in underserved communities in the future. Health & Wellness has solidified her passion to advocate for health equity, diversity and inclusion in the medical field and inspired her to support our underserved populations at UCSB.