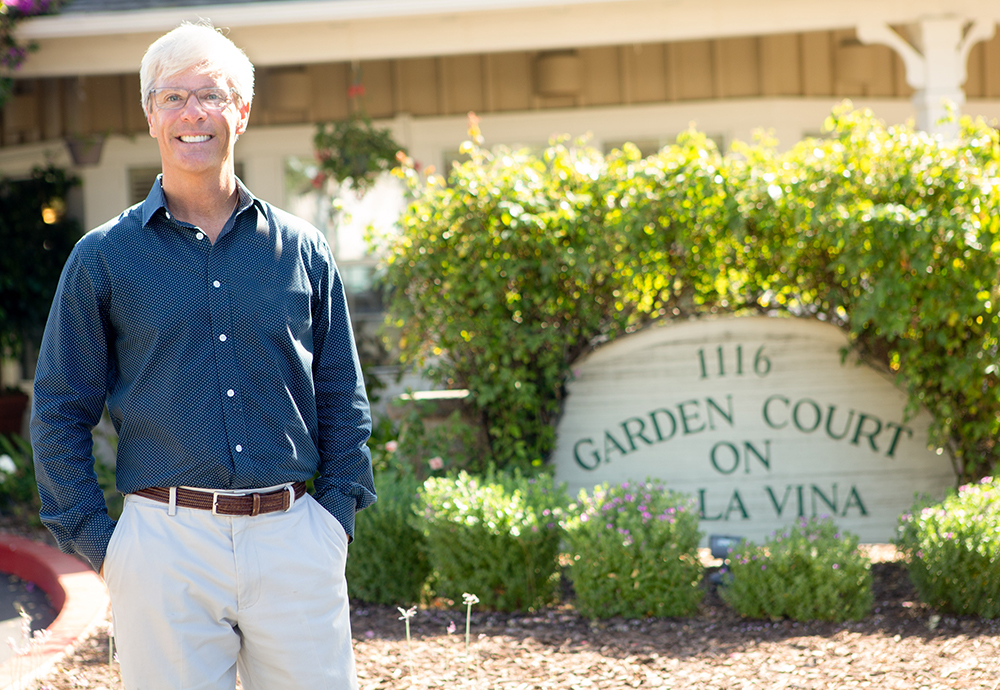 Executive Director | Garden Court
Courage to Lead Alumni
Garden Court independent living community in downtown Santa Barbara is transforming low-income senior housing on a national level and significantly improving the lives of its residents. The pioneering power of Garden Court is due to the innovative talent of its Executive Director, Christopher Tucker, and to the forward-thinking nature of Santa Barbara's Housing Authority.
Garden Court, a congregate housing community serving low-income, often previously homeless seniors, is a model of how federal tax credits can subsidize public housing and create a loving, supportive home to an elderly population. Garden Court is the first in the nation to provide near assisted living services to low-income seniors for an average cost to the resident of $850 per month. The model is so successful that Garden Court will open a second site in early 2020. Known as Gardens on Hope, the 89-unit building already has a needs-based wait list.
Chris' interest in seniors started in high school, when he worked at a senior center washing dishes and bussing tables. That experience provided his first glimpse of the "silver tsunami," a metaphor used to describe a groundswell of seniors and their growing, unmet need for housing and services. "In many other countries, like Mexico, 90 percent of seniors live with their families," Chris explains. "But in the U.S. 90 percent live outside the home, contributing to a significant housing crisis."
"Seniors have become marginalized in our country both physically and psychologically," says Chris. "That isolation is compounded because it's rarely discussed."
Chris is passionate about giving a voice to those issues —and has the professional background to be effective. After graduating from UCSB, Chris enrolled in the Peace Corps, educating seniors about natural disaster prevention. He received dual master's degrees; in public health from Boston University, where he volunteered with AmeriCorps, assisting seniors in an international public housing community. His thesis focused on how to provide public housing with services such as transportation, health advocacy, meals, and adult education to seniors.
He also earned his second master's from Harvard, majoring in education, a training that inspired the life-long learning curriculum offered at Garden Court, keeping seniors engaged in cultural adventures, artistic expression, music, daily exercise, and meaningful community service.
"Three decades of community building experience has shown me that intergenerational projects bring people of all ages and walks of life together. This creates something purposeful and leads to greater levels of enduring trust, positive self-identity, and joyful fulfillment," Chris explained.
"It's incredible to talk with our residents and hear their personal stories; they have lived a remarkable span of great social and technological change!" he said. Chris admits he is innately interested in people and their unique experiences.
The key to sharing stories is active listening, a skill he says he learned from his participation with Courage to Lead. "The listening skills I acquired from Courage to Lead have made a significant difference to me as an employer with my staff and with the residents who are most reluctant to trust," he said. "I'm better able to help our most at-risk clients by building bridges of trust, and this in turn allows residents to stay in one place long enough to foster friendships, romances, and even reunite with family members."
_________________________________________________________
"I'm better able to help our most at-risk clients by building bridges of trust, and this in turn allows residents to stay in one place long enough to foster friendships, romances, and even reunite with family members."
_________________________________________________________
Giving people a second chance is a big part of the equation. "My heart is with the people you see on the street who are homeless and older and who may believe that they have nowhere to go," he said. "My proudest personal moments are when residents share that Garden Court is their favorite place they've ever lived. I'd like to make that feeling a reality for as many people as possible."