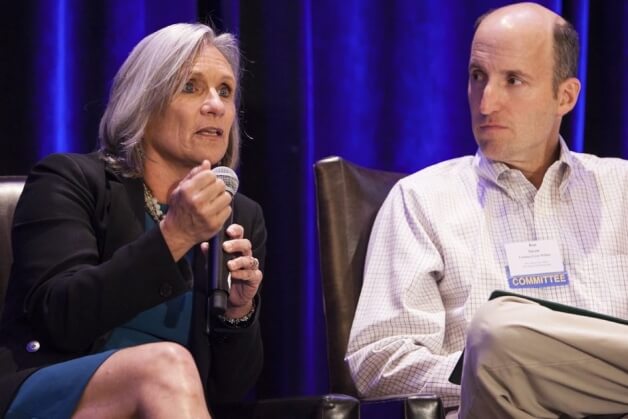 New Research Sheds Light on Nonprofit Organizations' Largest Resource: Their Employees
Noozhawk
May 2016
By Ann Pieramici for Leading From Within | Published on 05.08.2016 6:00 p.m.
Leading From Within invests in social sector leaders to make meaningful change within themselves, their organizations and their communities.
"As an organization that prides itself on supporting nonprofit leaders in our community, it was important for us to learn more about the people we serve," explained Ken Saxon, founder of Leading From Within.
The organization's research survey of Santa Barbara full-time nonprofit employees generated 430 responses, collecting data related to demographics, motivations, challenges, job satisfaction, career growth and professional development.
"It's a great starting point," said Pamela Lewis, chief operating officer at the Hutton Parker Foundation. "The survey findings generated a lot of interesting dialog and I hope that Leading From Within will take this study to the next level."
One of the most talked about points in the study is low compensation across the sector — 31 percent of respondents claim that low pay is the greatest challenge facing nonprofits and 28 percent of respondents report that they have not received a pay increase within the last two years.
Lewis says these findings actually represent opportunities to get more creative in compensation strategy.
"If the money doesn't exist for pay increases, then perhaps there are options of reduced work weeks or additional time-off," she said.
Lewis' foundation does grant unrestricted support to nonprofits, thereby enabling funds to go directly to staff positions or salaries.
As the relatively new CEO of CALM (Child Abuse Listening Mediation), Alana Walczak said that the Leading From Within research would help inform how she allocates resources at her organization.
"The study is extremely timely and relevant and provides an important baseline," she said, adding that the data is invaluable in helping her better understand her staff and their needs.
According to the survey results, other challenges facing the sector include the constant focus on fundraising, poor leadership at some organizations, and lack of a healthy work-life balance. Still, 65 percent report being somewhat or very satisfied with their compensation, and more than half aspire to a higher level within their own organization.
"One of the core programs of Leading From Within — our Emerging Leaders Program — is designed to train and prepare potential leaders for that promotion within their own organization," Saxon said.
"We don't want to continue hiring executives outside of our community. We want to give nonprofit employees the tools they need to move ahead in their own organization."
The desire for ongoing professional development was another particularly striking finding, with 79 percent of respondents stating that it's essential to their career growth.
"This is information that we can use going forward and ensure that we are providing such opportunities for our employees," Walczak said.
"We know that education is something that our nonprofit sector values," Saxon noted.
In fact, the research indicates that nonprofit employees are highly educated: only 2 percent did not attend college and 45 percent have a Masters or doctorate degree.
"It makes sense that these executives want to continue learning and growing, which benefits their organizations and our community as a whole," Saxon said.
Leading From Within fills this need through high-quality leadership development programs and ongoing alumni networks and continuing education.
The survey findings indicate that, in most cases, the nonprofit arena allows employees to work in a field they are passionate about or have a personal connection to, while contributing to the community in which they live.
The challenges presented in the study raise awareness of issues related to nonprofit employment and help nonprofit leaders and boards better understand and manage their largest resource and expense — their people.
"Open dialog is the first step toward realizing change," Saxon said. "We hope that the conversation continues in budget meetings and in boardrooms and among funders and grantees across our county. It's incumbent upon us to raise the conversation and support investments that make our sector stronger."
Click here for full results of the Leading From Within survey and the presentation slides.
— Ann Pieramici is an established public relations consultant and freelance writer. She currently handles public relations efforts for a number of Santa Barbara-area nonprofit organizations.