Ed France Ready for a New Ride Steering Leading From Within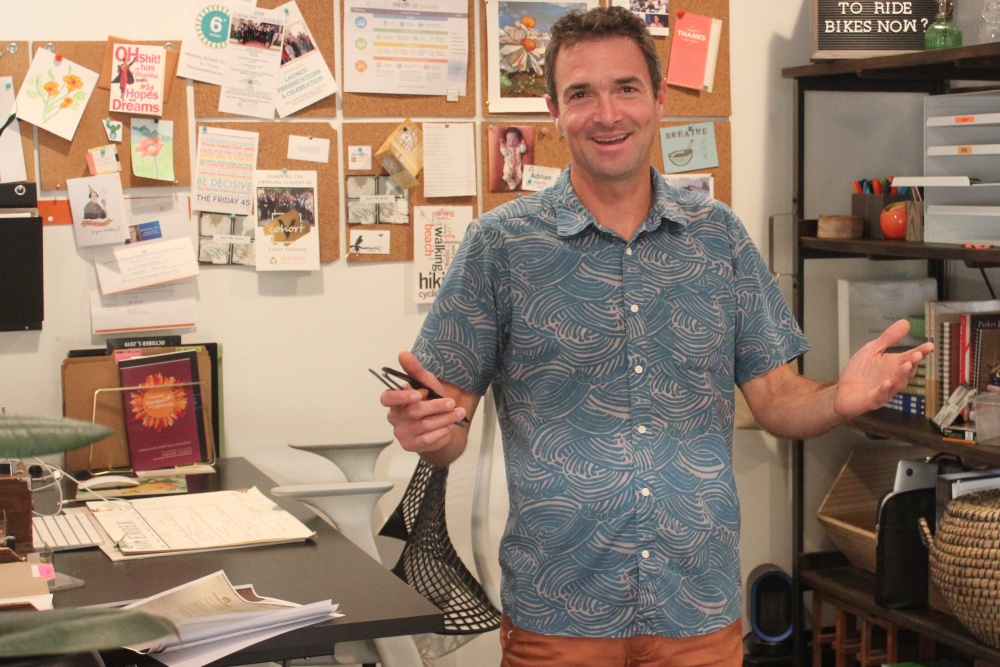 By Joshua Molina, Noozhawk Staff Writer | @JECMolina | December 1, 2019 | 10:00 p.m.
Longtime bicycle transportation activist switches gears to help emerging community leaders bring about change
For more than a decade, Ed France has been the face of the bicycle movement in Santa Barbara.
He co-founded Bici Centro, a bicycle repair shop, and then served as executive director of the Santa Barbara Bicycle Coalition.
He's battled for bike lanes and greater bicycle safety as a way to make all modes of transportation safer. But like all good things, France's bicycle journey has come to an end.
Instead of the bike, France has turned his passion to people, and the nonprofit organization Leading From Within.
"I have always been dedicated to change," he told Noozhawk. "I don't see myself as a revolutionary, but … my life is dedicated to positive change. We definitely don't live in a sustainable way."
Heady, an air of charm and always with a smile on his face, France is taking his unique skillset to Leading From Within in hopes of empowering leaders throughout the community to make change. The new platform will allow him to take the engaging pep talks, solutions-minded thinking and motivational speeches into a new environment.
"It's kind of one of the best programs in Santa Barbara that no one has heard about," he said.
France is the first full-time executive director of the organization that was launched 11 years ago. The organization, which boasts more than 400 alumni locally, offers training and development programs, such as Courage to Lead, Emerging Leaders and Leading for Community Impact. The organization is focused on social sectors and has four staff members and six instructors.
According to France, his new work will focus on helping nonprofit and philanthropic organizations, and their professional and volunteer leaders to "stay at their best." Representatives from other organizations — such as business and government — who are engaged in advancing social sector initiatives are also under the umbrella of the group's work.
"Most activists have really negative head spaces," France explained. "That's how you get because you are pushing and pushing and pushing and there's all that pushback."
France took part in the Courage to Lead program and it changed the work he was doing with the Santa Barbara Bicycle Coalition.
"I was burnt out, I was jaded, and I generally felt like there weren't enough resources to do the things I wanted to do," he said. "For me, I went from a scarcity mentality to an abundance mentality."
Mental shifts in approach, France said, make a difference.
"There's plenty of things to get down about," he said. "I really try to be optimisitic in a way that is pragmatic. I hate the people who are all about the power of positive thinking because it is not grounded in anything."
France said activists and social sector leaders get frustrated when they don't see immediate results and he hopes to help them get better at advocating change.
"Like climate change, they want to do everything, and then they start to feel desperation because they can't," he said. "We want to make such big change and then we feel like 'I am insignificant and I can't do anything,' and we kind of give up entirely.
"For me, the last decade was what if I don't try to change a whole bunch of things, but try to change one specific thing within a specific geography and just figure out that game."
France is a rare activist in that he almost never tells a government entity that what it is doing is wrong. He has spoken dozens of times over the years during the public comment portions of various meetings.
One of the tenets of Leading From Within is learning how to honor other people's truths while holding your own.
"It's not like I am right and you are wrong," France said. "It's 'no, you have a different perspective,' and that simple switch starts to allow so much more room."
In his new position, France wants to help people work together to build change from within.
"We live in a totally polarized society, and it's not just red state and blue state, but locally, take cannabis or housing," he said. "People are putting out arguments that are not that well thought out because they feel like they have to hold the banner for their side."
Ken Saxon, Leading From Within's board chairman, said France is perfect for the new position.
"Ed is a reflective, ethical and engaged leader who is committed to using his leadership in this sector to make life better for his fellow citizens," he said. "His leadership at Bici Centro and at the Santa Barbara Bicycle Coalition was where I saw those fantastic qualities in action."
Saxon said he expects France to grow the leadership organization.
"There is so much potential within our Leading From Within leadership network to make a greater difference by collaborating and innovating in new ways," he said. "I see Ed as someone who is uniquely qualified to lead our network into new opportunities to work together to benefit the common good."
For France, his new post marks a new chapter on his journey. A graduate of UC Santa Barbara's Environmental Studies Department, he plays Ultimate Frisbee on the beach, surfs and walks the stadium steps at Santa Barbara City College.
He also works within government, having served on the City of Santa Barbara's Transportation & Circulation Committee for 11 years. He's currently vice chairman of the Downtown Parking Commitee.
France loosely credits author E.B. White for how he approaches the world.
"I rise in the morning torn between a desire to improve the world and a desire to enjoy the world," he said. "It makes it hard to plan my day."
— Noozhawk staff writer Joshua Molina can be reached at jmolina@noozhawk.com. Follow Noozhawk on Twitter: @noozhawk, @NoozhawkNews and @NoozhawkBiz. Connect with Noozhawk on Facebook.