Janet Garufis Offers Words of Wisdom on Leading the Way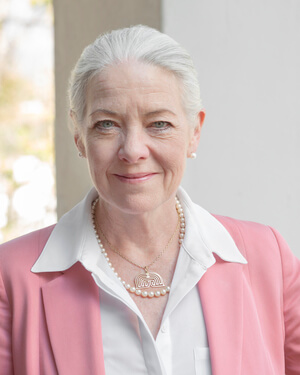 By Ann Pieramici for Leading From Within | June 14, 2019 | 10:48 a.m.
Noozhawk
One of the great rules of leadership is to create a work environment that gives employees the space and encouragement to shine, according to Janet Garufis, chairman/CEO of Montecito Bank & Trust (MB&T).
This was one of the gems Garufis shared with the 20 participants of Leading From Within's Emerging Leadership class at The Leadership Challenge workshop, which featured guest speakers and facilitated discussions.
The workshop is part of a yearlong training that supports and educates emerging social sector leaders in Santa Barbara County and beyond.
"We selected Janet to present the leadership challenge workshop, Encourage the Heart, because she believes strongly in the work and practices what she teaches," said Christa Roth, co-instructor for the program.
Garufis, who is known on the Central Coast for her professional and philanthropic endeavors, oversees a staff of some 200 at MB&T.
She credits the late Michael Towbes with building a culture of shared values that celebrates individual and team excellence.
"It's extraordinary what can happen when you are intentional about acknowledging the work of others and celebrating those victories," said Garufis. "Praising people for a job well done is so easy if you have confidence in yourself as a leader.
"The most powerful thing you can do as a leader is to give the credit away."
Those attending the workshop shared examples of how their nonprofits honor employees through company celebrations, flowers, handwritten notes, small acts of kindness, and through the most coveted gift of all – time off.
Samir Rai, Direct Relief community engagement associate, said his team honors individual achievement with whimsy by crowning employees with a purple triumph hat that is worn proudly throughout the day.
Kate MacNaughton, former associate director of development at MOXI, said her museum rings a bell alerting other employees to good news or personal successes.
"It's important to understand that everyone is different, so personalizing recognition and being authentic is key," Roth said. "Not everyone wants a big, loud celebration."
Garufis also discussed the importance of being reflective as a leader, regularly asking yourself what you could have done better. "As a leader, you are always modeling, so it's powerful to regularly check yourself."
It's also critical that leaders be approachable. Garufis laughed when she first heard some associates outside the leadership team were hesitant to speak with her directly. She remedied the situation by instituting Breakfast with the Chairman.
The monthly breakfast rotates through a different group of 12-15 associates, allowing them direct and approachable access to Garufis. In turn, she is able to connect with every person in the organization, ensuring their voices and ideas are heard.
Numerous process improvements and activities have been implemented as a result of these constructive conversations. Building relationships both internally and externally is essential to the bank's mission.
"The Emerging Leaders program is exactly what I had hoped for," said Rachel Van Mullen, an attorney with the Santa Barbara County.
"Having spent more than a decade working for the county, this program provides connections and learning opportunities with other types of organizations teaching me new ways of leading and conducting business," she said.
"For me, the Emerging Leaders Program has been instrumental in helping me find my leadership skills and giving me the opportunity to grow professionally and personally," said Nicole Jones of the Santa Barbara Scholarship Foundation.
Garufis' approach to leadership is working. MB&T has received 16 Best Bank awards in the last six years, including 2017 Bank of the Year by the Western Independent Bankers, which evaluated banks across the Western States, and the No. 2 Best Bank to Work For in the U.S. by American Banker in 2018 (No. 1 in California).
MB&T is a top sponsor of Leading From Within, sharing its vision for investing in people who drive change.
Leading From Within thanks Montecito Bank & Trust for sponsoring the Emerging Leaders Program.
Leading From Within is accepting applications for several of its leadership programs. To learn more, visit http://leading-from-within.org.
— Ann Pieramici for Leading From Within.